Listen to papers
You may find that sometimes it's easier to use your ears than eyes. For example, when you are driving, taking a bus, or biking, it is almost impossible to read papers. If you still want to know the latest updates in literature, our "Listen to papers" advanced feature can help.
"Listen to papers" has several benefits:
When reading is not possible (such as in the car, or when your eyes are tired), you can still learn about the latest literature
(for non-English native speakers) Improve English listening and learn the standard pronunciation of words (especially scientific terms)
While reading, sometimes the reading speed can be too fast, or there are too many distractions. Reading quality is low in these cases. Listening will deepen the memory of the papers.
Listen to all the papers in one email
In the alert email sent by Stork, there will be a "listen to papers" icon. Clicking the icon will take you to the Stork website. Just click the icon again, you will hear the reading of the titles and abstracts of all papers in this email. Users who subscribe to "Email translate" can also choose other languages.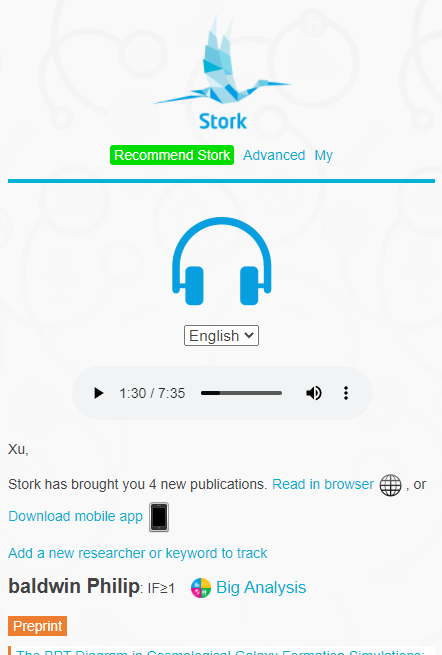 Listen to a single paper
After you click on a single paper, click the "listen to papers" icon to listen.
The sentences above support your opinion. The 5th one even shows the percentage.
Sample
To get an idea of the quality of the reading, please click the sample below.
You may wonder, is it AI or human reading? The answer is AI. We use the best which is very close to human reading.
Want to try yourself? (The number of requests is large and there is a waiting list)
How to use?
Please go to Stork main page (account required), scroll down to the Advanced Feature section, check the "Add to subscription" box and then click "Subscribe" Button. You may also purchase Stork Membership.
Your payment is processed securely via Stripe.

Other advanced features
Stork Official Website: https://www.storkapp.me